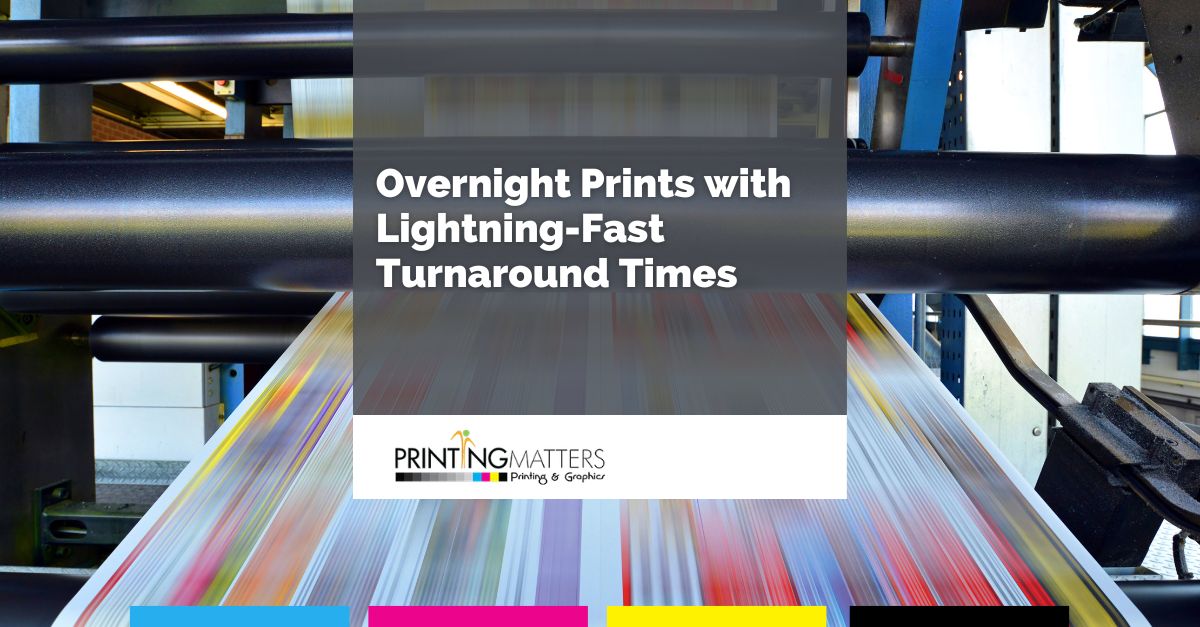 Do you need to receive your prints fast? Typically, printed materials are available in two business days, depending on the number of prints needed. However, with overnight prints, you can get them the following day. This kind of service is especially useful if you are on a tight timeline. 
Advantages of
Overnight Prints
The most significant advantage of using this type of service is the fast turnaround time. You can get your prints within 24 hours. Despite the fast TAT, you will still get high-quality prints. This is ideal if you are meeting a tight deadline or simply want to take advantage of a last-minute opportunity. 
The Convenience of this Service
My Printing Matters offers overnight printing services that let you upload your design online to place your orders from anywhere and at any time. The convenience will save time and resources. The savings you receive will be spent on other important tasks. 
What is the Quality of the Prints? 
Overnight printing services utilize state-of-the-art printing technology. With that in mind, you are guaranteed high-quality printing. My Printing Matters use premium paper stocks to produce high-quality prints that can accurately reflect the design and messaging of the business. It ensures that the final product is of the highest quality and helps to enhance the brand's image. 
Customization of the Prints 
When you use this service, you can use a range of customization options. It lets you create prints that reflect your unique brand identity. It includes a variety of paper stocks. The finishing and customization options will help you create a unique professional look. 
Is this a Cost-Effective Solution? 
It is true that overnight printing comes with a premium price tag. However, it is still a cost-effective option for your business, especially if you need high-quality prints quickly. The cost of overnight printing is lower than the cost of rush shipping fees or paying employees overtime to complete a last-minute printing job. 
What are the Types of Prints That Can Use Overnight Printing? 
Overnight printing service is available for many types of prints. Business flyers, for instance, can be overnight printed. My Printing Matters offers a range of products that can be printed overnight, including postcards, business cards, brochures, and flyers, among others. This type of service utilizes high-quality printing and premium paper stocks, as mentioned earlier. 

How Much Is Overnight Printing? 
The pricing is higher than the regular printing service. To get your materials printed overnight, you can place your order after uploading your design files. But if you want to make sure that your prints will be available ASAP, you may call My Printing Matters for inquiries or clarification. 
It is important to note that while this service is a fast and convenient option, you should still take the time to ensure that your design is well thought out and meets your goals. It means that you must check that you are using high-quality images and text. The design must also be easy to read and it must convey your message properly. Plus, it must include a clear call to action. To know more about My Printing Matters' overnight prints services, please visit our Services page.