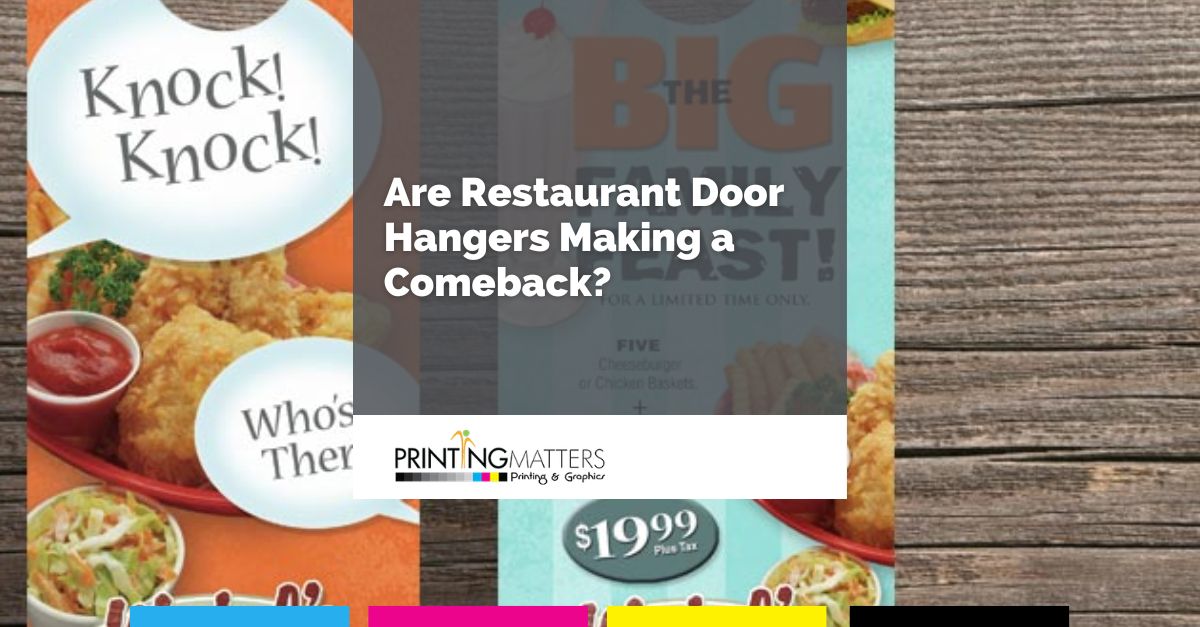 The team at My Printing Matters is receiving increased orders for restaurant door hangers, and it begs the question, are restaurant door hangers making a comeback? Orders tend to increase around springtime when temperatures start to improve, but it is more than that. Is something afoot?
The Pandemic Lockdowns Caused Problems
Covid and the lockdown were strange times for all. It caused problems, one of them being that businesses stalled their marketing campaigns. Plus, when you add in the fact that door hangers were seen as potential factors to spread the virus, it became easy to see why companies were not ordering them. Their customers were scared thinking that such disease may be spread through the thing hanging off their door. So who can blame them for not wanting anything to do with it?
So, is the new popularity of restaurant door hangers just a form of demand recovery? A little like how laser tag and theme parks were back in demand once the lockdowns were over.
Another Trend is Back Again
Trends often are replaced by the next, but some trends keep circling around, like good old classic Rock songs. So, is the popularity of door hangers just another re-tread of a classic trend? The answer is probably, "Yeah." The top marketers are creative. And the rest will follow. Some marketing methods worked in the past, so they have been repeated again because they get results. 
Moving Offline For a While
Pushing your products and services online is very expensive, but there are times when it is significantly more expensive. This is often when the big companies start pouring money into SEO (Search Engine Optimization) and affiliate advertising and networks. The cost of marketing becomes too expensive for smaller and local companies, so they start marketing offline where they have less competition. After all, Mcdonald's and Burger King may have the top spot in every local restaurant search online, but they rarely hang a door hanger off people's doors.
It is very possible that companies are using door hangers because their competition is almost zero. People cannot move online for advert after advert, but their doorknob probably doesn't have a bunch of door hangers on it. Even junk mail isn't that competitive anymore. We used to receive a mailbox full. Now we just get a few per week. Small companies may simply be pressing their local weight advantage to counter their possibly losing online marketing positions.

Getting it Right the First Time
If you are looking for restaurant door hangers, then get in touch with My Printing Matters. Pick your own designs, run them through the system, and make a bigger impact with your offline marketing. Restaurant door hangers are back in style for the moment, which means they are working as a marketing method, so get in while the getting is good. You will not be sorry.