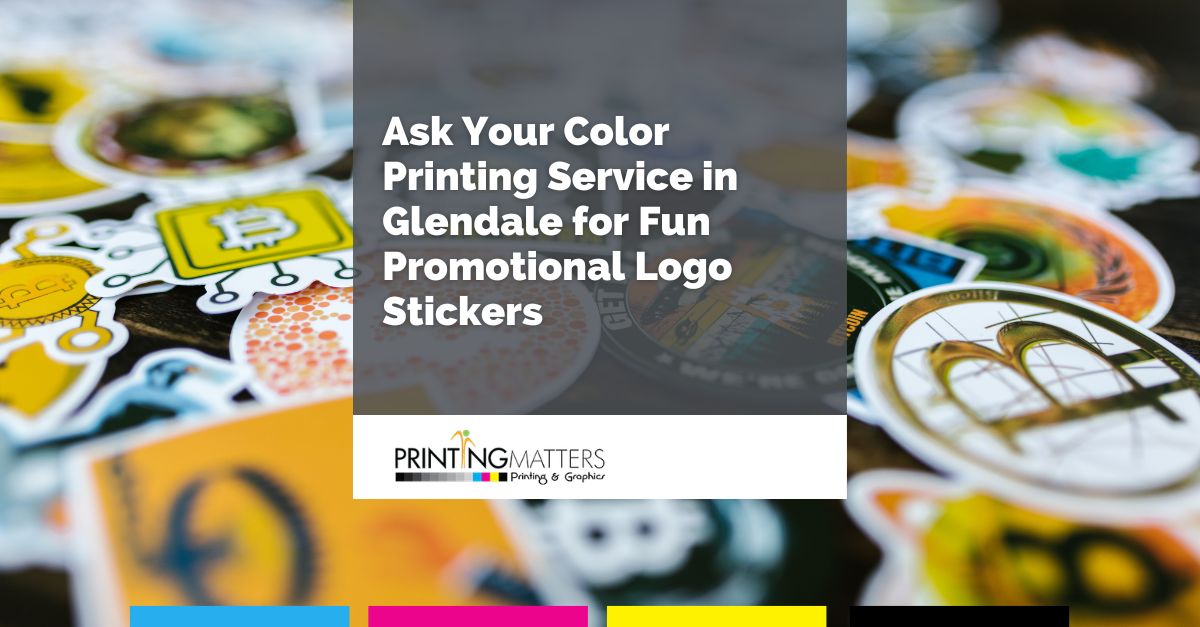 As your go-to color printing service in Glendale, you can find we can supply many of the promotional materials you need to market your business, your products, and your services. Logo stickers are one fun way to get your brand out there to the masses. Unlike flyers, banners, and door hangers, people enjoy using stickers, and each sticker on a water bottle, cooler, or car is a free way to advertise. Here's how to use stickers to your advantage.
Special Promotions
If you're running a last-minute sale or promotion, a sticker is a fun way to advertise it. Hand them out as the promotion approaches so customers are ready to take advantage of the deal when the time comes. 
Seasonal Use
Stay relevant by offering stickers on a seasonal basis. They'll get your name out there, but also remind current and potential customers to check back for new sales, discounts, and specials as the seasons change. 
Brand Messages
Use promotional stickers to spread your brand's logo at the same time as you spread your mission statement or a special message to your customers. This can be a sticker that you use year-round, in addition to seasonal to promotional stickers. 
QR Codes
With the rise in the use of QR codes to send customers to your website, you can double up by printing them on stickers. That way when people apply them to objects, you are also reaching any person who sees that sticker, even if you didn't personally give it to them. 
Seal Orders
If you operate a food business or a clothing company, you can use promotional stickers to seal your packages. This is a reminder for customers who have purchased items from you and is eye-catching enough to keep your brand at the forefront of their minds. 
Make Them Collectible
People love collectibles and you can create a set of promotional stickers that you sell. Customers are getting to know your brand with each new sticker in the set and you can use them to advertise, while also creating a new revenue stream.
Giveaways
People also love free stuff so using stickers as a giveaway is an easy way to advertise. When potential customers grab a free sticker, they are being exposed to your brand, but also spreading it around to others. 
Mailing Labels
Using a promotional sticker as a mailing label means exposure to anyone who handles the package on its way to your home. It's also another way to keep your brand memorable, even to those who have already bought from you. 

Campaign Use
If you have a specific campaign you're using for a limited time, a sticker to go with is a fun way to increase your brand's visibility and keep current customers happy as they add another sticker to their collection. 
When you ask your color printing service in Glendale to create promotional stickers for you, you are creating a fantastic advertising opportunity and a fun way to reach your target audience. Contact Printing Matters today to get started creating the perfect stickers for your customers.