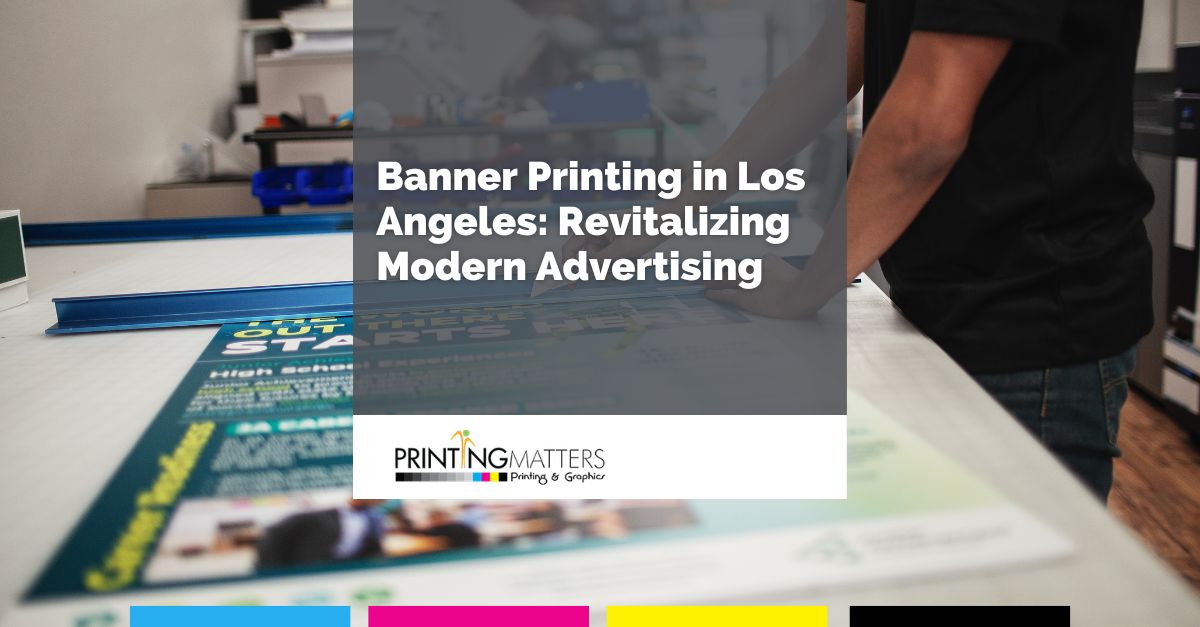 In the fast-paced and ever-evolving landscape of Los Angeles, where the entertainment industry meets technology, modern advertising strategies must continually adapt to captivate audiences. Amid the glitz and glamour, one marketing tool stands out – banner printing. My Printing Matters, your one-stop printing shop, is at the forefront of revitalizing modern advertising through innovative banner printing in Los Angeles. In this article, we'll explore how banner printing is reshaping the advertising scene in the City of Angels.
The Banner's Timeless Appeal
Banners have been a steadfast presence in the world of advertising. Their size, versatility, and ability to convey powerful messages make them an enduring choice. In Los Angeles, where larger-than-life visuals and immersive experiences are the norm, banners provide a means to capture attention and create memorable impressions.
A Vibrant City, Diverse Needs
Los Angeles is a city of unparalleled diversity, and its advertising needs are equally varied. From the glitzy billboards of Hollywood to the bustling local businesses scattered throughout its neighborhoods, the city demands advertising solutions that can adapt to its ever-changing landscape.
Customization Unleashed
One of the key advantages of banner printing in Los Angeles is the level of customization it offers. Businesses can create banners that reflect their brand identity, from color schemes to imagery. My Printing Matters ensures that each banner is a unique representation of the client's vision.
Event Marketing: Standing Out in the Crowd
Los Angeles is synonymous with events – from movie premieres to music festivals and trade shows. Banners play a pivotal role in event marketing, helping businesses and organizers stand out in the crowded event scene. Bold, vibrant, and strategically placed banners become beacons for attendees.
The Entertainment Industry's Best Friend
Los Angeles is the entertainment capital of the world. The film and television industry, in particular, relies heavily on effective advertising to create buzz around new releases. Banners are the go-to choice for movie and TV show promotions, adorning the iconic boulevards of Hollywood.
Small Businesses, Big Impact
While the entertainment industry dominates the narrative, small businesses are the lifeblood of Los Angeles. Local shops, restaurants, and service providers depend on effective advertising to thrive. Banners can turn a corner café into a local landmark or announce a grand opening with style.
A Glimpse into the Future: Digital Banners
As technology continues to shape the advertising landscape, digital banners are making their mark in Los Angeles. My Printing Matters offers innovative digital banner printing services that seamlessly merge traditional and modern advertising.
Sustainability Matters
Los Angeles is not just about entertainment; it's also a city that values sustainability. My Printing Matters understands the importance of eco-conscious printing. Our banner printing services include sustainable materials and inks, ensuring that advertising can be both effective and environmentally friendly.
Local Community Engagement
The rich tapestry of Los Angeles includes vibrant local communities. From multicultural neighborhoods to niche markets, banner printing provides a means to engage with and celebrate the diverse communities that make up this city.

A Banner Future for Modern Advertising
In Los Angeles, modern advertising is a blend of tradition and innovation, high-energy events, and local charm, and My Printing Matters is here to serve the diverse needs of this dynamic city. Whether it's a towering digital banner for a movie premiere or a welcoming banner for a neighborhood shop, our banner printing in Los Angeles caters to modern advertising needs. The city's advertising scene is ever-evolving, and banners are leading the way with their timelessness and adaptability, we're proud to be a part of that transformation. With My Printing Matters, the future of modern advertising in Los Angeles looks brighter than ever.