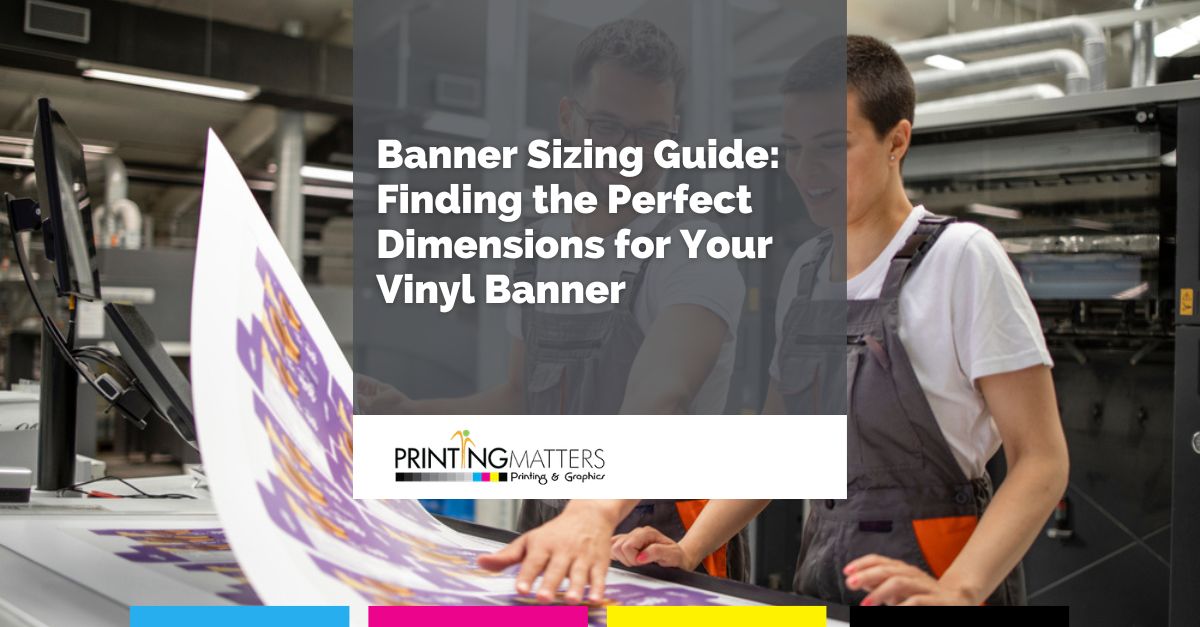 Vinyl banners are versatile and eye-catching tools for advertising, promoting events, and conveying messages. However, determining the right size for your Vinyl Banner is crucial to ensure it grabs attention and effectively delivers your message. At My Printing Matters, we understand the importance of choosing the right dimensions for your banner. In this comprehensive guide, we'll walk you through the key considerations and expert tips to help you find the perfect size for your banner.
Understand Your Purpose and Audience
Before diving into the specifics of banner sizes, it's essential to clarify your goals and consider your target audience. Understanding the purpose of your banner and who it's intended for will guide your decision-making process.
Purpose of the Banner
Identify the primary goal of your banner. Is it for advertising a sale, promoting an event, providing information, or something else? The purpose will influence the size and content.
Audience Location
Consider where your target audience will view the banner. Will it be displayed indoors, outdoors, at eye level, or from a distance? These factors impact visibility and size requirements.
Key Message
Determine the core message you want to convey. Ensure that the banner's size allows for clear and concise communication of this message.
Vinyl Banner Sizing Options
Vinyl banners come in various sizes, each suited to different purposes. Here are some common banner dimensions to consider:
Small Banners (2′ x 4′ to 3′ x 6′)
Small banners are ideal for indoor displays or where space is limited. They work well for in-store promotions, trade shows, and as directional signs.
Medium Banners (4′ x 6′ to 6′ x 8′)
Medium-sized banners strike a balance between visibility and portability. They are suitable for both indoor and outdoor use, making them versatile for events and promotions.
Large Banners (8′ x 10′ and Above)
Large banners are attention-grabbing and highly visible. They are perfect for outdoor advertising, grand openings, and large-scale events.
Visual Impact and Legibility
The size of your banner directly affects its visual impact and legibility. Here are key considerations to keep in mind:
Readability
Ensure that your banner's text is large enough to be read from the intended viewing distance. Test different font sizes to find the right balance between visibility and aesthetics.
Graphics and Imagery
High-resolution images and graphics can make your banner more visually appealing. However, they must be clear and well-scaled to maintain image quality when printed.
Whitespace
Don't overcrowd your banner with too much content. White space can enhance readability and visual appeal.
Location and Display Setup
Where you plan to display your banner is a critical factor in determining its size. Consider these location-specific factors:
Indoor vs. Outdoor
Indoor banners can be smaller due to controlled lighting and proximity to the audience. Outdoor banners need to be larger to be seen from a distance.
Height of Display Area
Measure the height of the available space for your banner. Ensure that the banner's size fits comfortably within the allotted area.
Eye Level vs. Elevated
Banners displayed at eye level can be smaller, as they are easily readable up close. Elevated banners, such as those on buildings, require larger dimensions for visibility.
Banner Orientation
Banner orientation, whether horizontal (landscape) or vertical (portrait), plays a role in size selection. Choose the orientation that best suits your content and the available space.
Horizontal Banners
Horizontal banners are great for displaying wide images or accommodating lengthy messages. They work well for backdrops and landscapes.
Vertical Banners
Vertical banners are space-efficient and ideal for displaying tall images or emphasizing vertical elements in your design. They are common choices for portrait-oriented graphics.
Budget Considerations
Your budget also influences the size of your vinyl banner. Larger banners typically cost more due to the increased material and printing expenses. Balance your budget with your desired banner size to find the right fit.
Design Responsively
Once you've determined the appropriate dimensions for your banner, design your artwork with responsiveness in mind.
Vector Graphics
Use vector graphics for logos and text elements to ensure they remain sharp and clear at any size.
Scalability
Ensure that your design is Scalable without loss of quality. This is especially important for images and graphics.
Test Printing
Before finalizing your design, consider printing a small test section to check for any issues with resolution or scaling.
Selecting the right size for your vinyl banner is a critical step in ensuring its effectiveness as a marketing or informational tool. By understanding your goals, considering your audience, and factoring in location and design elements, you can confidently choose the perfect dimensions for your banner. At My Printing Matters, we are committed to helping you create visually stunning and impactful banners that meet your specific needs. Contact us today to discuss your project and get started on producing the ideal banner for your purpose.