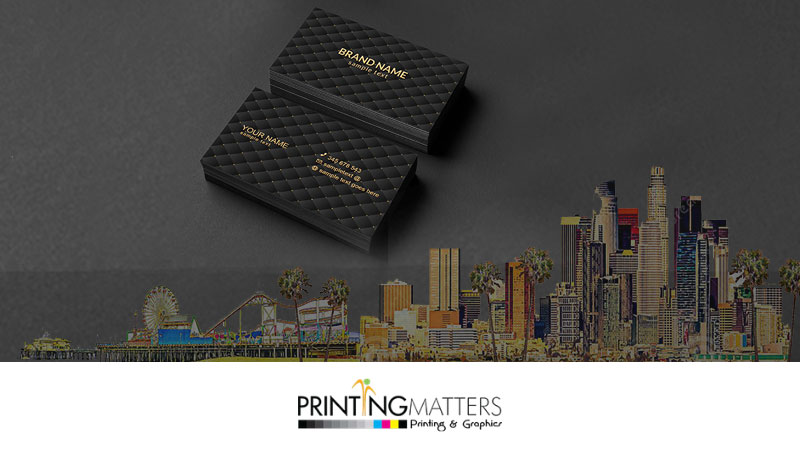 Are you looking for a reputable business card printing in Los Angeles? If you are, then you have come to the right place. 
My Printing Matters offers various printing services, including business card printing. 
However, before you choose this service, make sure that you design your business card to be an effective visual marketing tool and not just another tool to promote your business. 
Simplicity is the Key in Business Card Printing in Los Angeles
One of the things to consider when you design your own business card is to make it simple. Keep in mind that the more details you put on a card, the more difficult it is for your recipients to find what they are looking for. 
To make your card simpler, limit the phone numbers you include on the card. If you want to place one phone number, it has to be the best number to reach you. 
It doesn't matter if it's your main office's phone number or your personal number. You need to choose the number that's easy for your customers to contact you. 
The best way to do it is to just direct all calls to one place. 
Don't put your fax machine number if your customers don't fax you. 
Physical Address of Your Business 
If you have a physical address, you can include it on the card. However, if you don't want people to drop in, you may leave it off. 
Many businesses are now online. People rarely come into the physical office of a certain company.
In that case, you may not need to include it on your business card. However, if you want your customers to drop in to explore your products, you may include this address. 
Social Media Channels
Most of your customers are using social media to keep them updated about the companies they admire. However, it doesn't mean that you put all your social media channels on your card. 
To make it simpler, just use the social media's logo icon, instead of spelling it out. Then, choose the channel where you are always active. 
For instance, if you use Facebook more in updating your customers, then just add Facebook's icon while leaving off other channels. 
Choose High-Resolution Logo 
Don't cut and paste your logo. Instead, you need to choose a high-resolution file. Hire a graphic designer if you want to ensure that your logo appears professional on a business card. 
Or you may use a high-resolution image for your design. There are various sites out there that provide free stock photos. You can choose one of them to make your card more eye-catching. 
Use the Right Fonts 
There are various fonts you can use. But you must keep your fonts basic. That is, choose fonts on your card that are easier to read. 
Where to Print Your Business Cards? 
You can upload your design on the My Printing Matters platform. Our business card printing in Los Angeles can handle it. And to get discounted rates, you may choose our bulk printing services. Find out more here: (818) 260-9512.