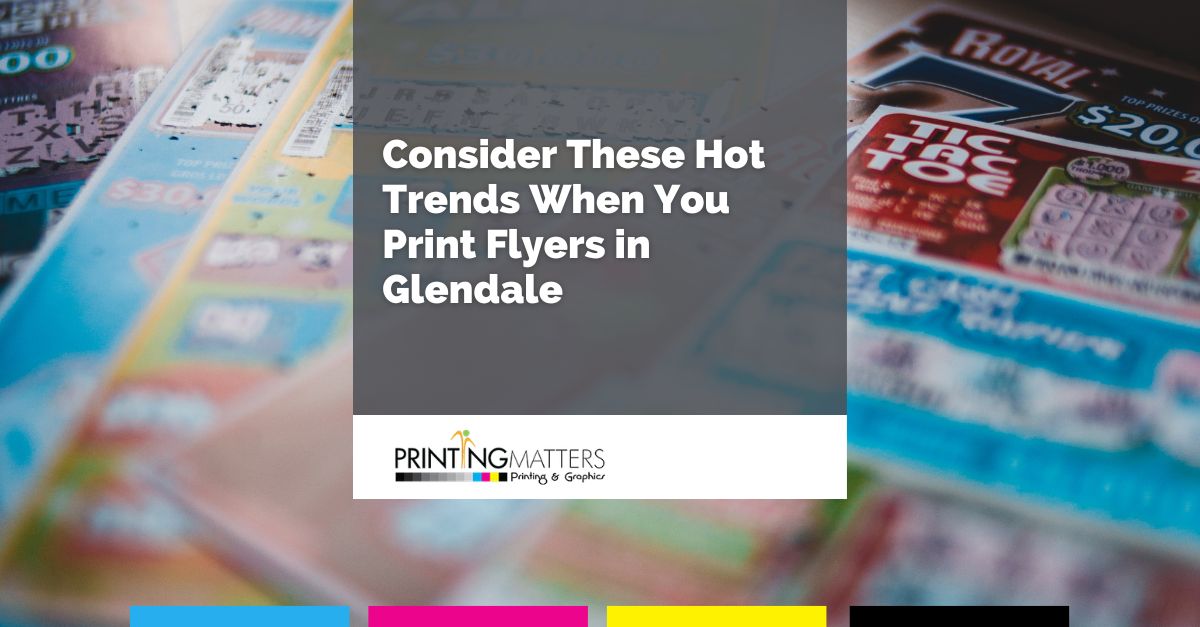 Flyers are a great tool for your marketing campaigns. Whether you are simply trying to get your brand out to the masses, or you're showcasing a special event or sale, flyers are easy to distribute and an affordable way to advertise. Create your flyers to be appealing to your potential customers so when you print flyers in Glendale, consider these hot trends to create the perfect flyers for your business. 
Be Precise
With limited space on your flyers, you want to be sure to use the space wisely. That means being precise and keeping it simple. You don't want to overwhelm any potential customers with a huge amount of information in a small space. Use what's most important, along with your contact info so people can get in touch to find out more. Don't overcrowd the flyers with fonts or pictures as this might be a deterrent to reading the message on your flyers. Most of the time, it's best to make your flyers one-sided so the information is right there, without having to search for it. 
Use Sections
By dividing your flyers into a couple of sections, you can help your customers look through the information in small, easily digestible chunks. You can do this by using subheadings or changing up the font to direct the eyes to specific parts of the flyers for specific information. For example, perhaps you have a coupon that you divide with a dotted line. Or maybe you have a small square that is a bright color that contains your contact information. You don't have to separate your sections with bold lines, but group things in such a way that it's cohesive and informative for your reader. 
Add Infographics
Flyers that are all words are boring and won't catch the eye of your reader in the same way that infographics can. At the same time, using infographics is a fast and easy way to let your customers know what your brand offers. Perhaps you use an avocado if you run a Mexican restaurant, or you showcase a bottle of nail polish for your beauty salon. Whatever it happens to be, the use of infographics, along with the words, can draw customers to your flyers so use that opportunity by using the right ones for your brand. This is a great way to incorporate your logo and color scheme as well. 

Consider Your Target Audience
Instead of a one size fits all style of flyers, consider whom you are targeting. This drives your color choices, image options, and even the way you word the information on your flyers. This will be different if an older generation is your target than if you are trying to reach young parents. Slang terms, style of photos, and your call to action can be customized based on your target consumer, whether it's someone looking for a place to host a book club, or it's a young family looking for swim lessons for their kids. 
When you print flyers in Glendale you're taking advantage of an affordable marketing technique that offers a lot of bang for your buck. If you're ready to print and distribute, contact Printing Matters today and we'll help you get the job done.