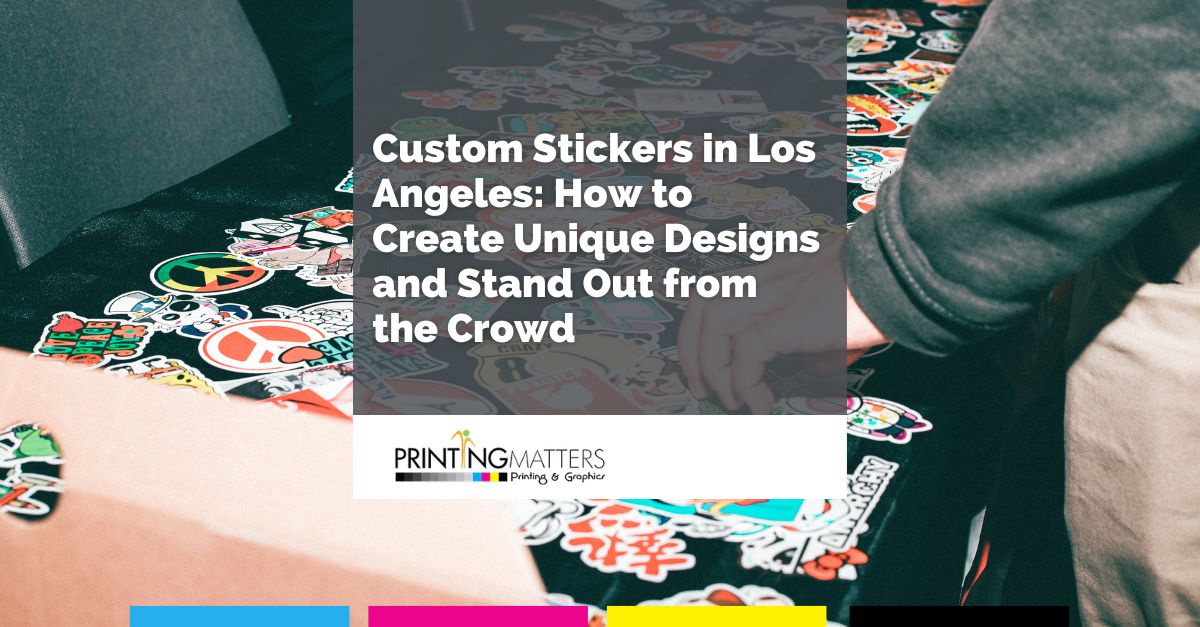 Custom sticker printing in Los Angeles is a popular way to promote your brand or add a personal touch to your products. Whether you are looking to create promotional stickers for your business or want to design custom stickers for personal use, My Printing Matters has a variety of printing techniques that can help bring your vision to life. 
Standing Out from the Crowd with
Custom Sticker Printing in Los Angeles 
Determine Your Purpose 
Before you even start designing your stickers, it is vital to determine the purpose and message you want to convey. Are you creating promotional stickers for your business? Or are you looking to create custom stickers for personal use? You can by tailoring your designs to meet your specific needs defining first your purpose. 
Choose the Right Materials 
When it comes to sticker printing, there are various materials to choose from, including vinyl, paper, and clear stickers. Every material has its own pros and cons. Thus, it is vital to choose the one that best fits your design and purpose. Among the many materials available, vinyl is the most common. It is versatile and premium. It is also inexpensive compared to other materials. However, if you want to use the sticker for heavy-duty equipment, you may consider a polyester sticker. It can stand up well to extreme temperatures. 
Create Eye-Catching Designs
The key to creating standout custom stickers is to create designs that are eye-catching and memorable. You may use bold colors, interesting graphics, and unique fonts to grab the attention of your audience. But just because you want an eye-catching design, it does not mean that you need the most complex one. You should keep it simple. Simplicity is still the key when it comes to making stickers a more effective advertising tool. Do not clutter it with too many design elements. Rather, focus on creating a clean and simple design that clearly communicates your message. 
Use High-Quality Images 
If you are using images in your design, make sure they are high-quality. This will guarantee that your images look sharp and vibrant when printed. Use high-resolution images with more pixels. They can be printed at a larger size without losing clarity. When choosing images for your sticker design, opt for images with a resolution of at least 300 dpi. Opt for vector images that are created using mathematical equations. You can resize them without losing quality, making them a great choice for the design. If you are using logos or icons in your design, make sure to find vector versions of those images. 
Be Unique
To stand out from the crowd, try to create a unique design that is different from what others are doing. Incorporate your own branding elements, or use a creative design that captures the essence of your message. 
Consider Die Cutting 
It is a printing technique that lets you cut your stickers into custom shapes. It can be a great way to make your design more unique and memorable. 
What is the Best Design for You? 
Schedule a consultation with our experts in sticker printing in Los Angeles. Or just contact us to know more about how you can get started with sticker printing.