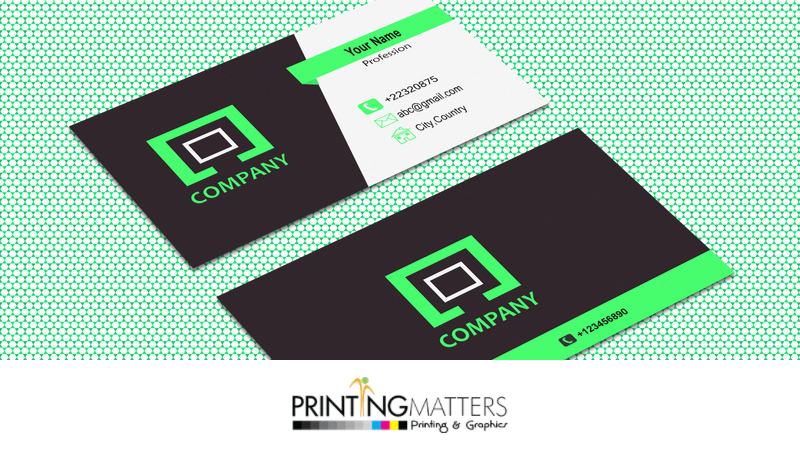 Business cards are small marketing tools that can pack a real punch, only if you do them right. Small businesses, independent retailers, and global organizations are opting for business card printing in Los Angeles to help them boost their brands and improve connections. 
You might find several cheap business cards on the market. If you choose those flimsy cards, don't expect them to stand out. 
To maximize the benefits of business cards, you must make sure that yours stand out from the crowd. After all, business cards are your first introduction to your brand, message, and yourself.  
As your partner printing company, we want you to succeed in your business. So we provide you with these tips to create attractive business cards that truly stand out. 
Use Both Sides When Opting for Business Card Printing in Los Angeles 
At My Printing Matters, you can choose whatever design you want that you think truly represents your brand. But we recommend you avoid the ordinary design. 
You know, the one with print on one side and nothing on the other side. Instead of this traditional design, make sure that you use both sides to promote who you are. 
The main side should contain all your important information. Then, on the other side, showcase your brand more. But don't overdo it. Keep it simple. 
Make the Text Easy to Read 
The text must be clear and easy to read. As mentioned, it should only include your most important contact details. Because of the limited space, you need to be creative without having to make the card look cluttered. 
Add Bleed Area 
You don't need it if the background is white. If it's not, it's highly recommended to include a bleed area, which is typically 3mm. 
This area will make sure that during printing, the borders will be included. It also guarantees that the cards are printed the way you want them. 
Choose Only Quality Paper 
At My Printing Matters, we only offer high-quality paper for business card printing jobs. We understand that business cards are a perfect tool for you to make the right impression. 
Hence, we only provide thicker cards and print them with a professional look. The material used is high-quality so the card won't get damaged when you hand it to your potential customers. 
Pick the Right Colors 
Although the text is vital for your business cards, you must not pick just any color. Keep in mind that it plays a big role in making your cards look more attractive and professional. 
You must not add color after color. Instead, choose colors that fit with your industry. Stick to one color and make sure that it follows the same scheme as your logo. 
Start Printing Your Business Cards Now 
Our business card printing in Los Angeles is so affordable you don't need to worry about your marketing budget. Keep up to date with us by consistently visiting our site or call us if you have further questions about how to print your business cards: (818) 260-9512.