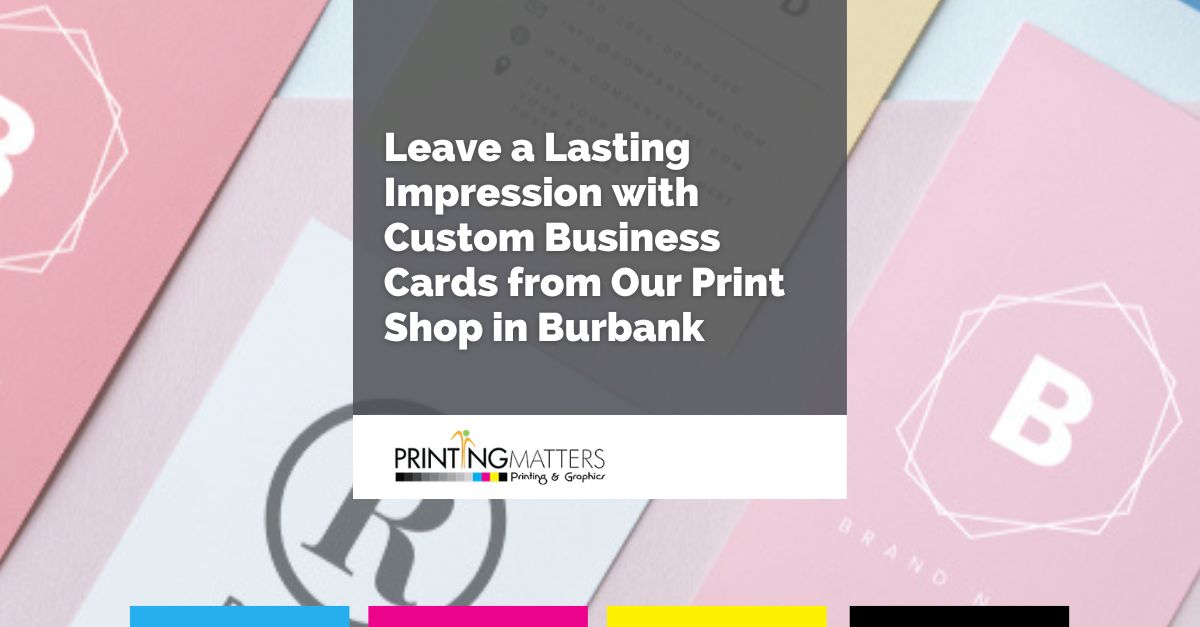 From email to the Internet, technology has definitely changed how businesses communicate with their audience. Indeed, written communication now is paperless. However, there is still this item that remains printed. Carrying a business card remains important for various reasons. But you need to partner with the right print shop in Burbank to ensure that your business cards stand out. 
Making a Strong Impression by Hiring a
Print Shop in Burbank
for Custom Business Cards
Making a strong first impression is vital in business. One of the simplest ways to achieve it is through a well-designed, professional business card. At My Printing Matters, we offer custom business card printing services that will leave a lasting impression on your potential clients, colleagues, and partners. 
Showcasing Your Brand 
Custom business cards are an excellent way to showcase your brand. They can effectively communicate your message to your potential clients or partners. With our state-of-the-art printing technology, we can create high-quality cards that are tailored to your specific needs. Whether you want a classic design or something more creative and unique, we have the expertise and tools to bring your vision to life. 
Reflects Your Brand 
We understand that each business is unique. Thus, we take the time to understand your needs and goals so that we can deliver a solution that exceeds your expectations. 
Printing Options
My Printing Matters offers a wide range of printing options to help you achieve the perfect look and feel for your business cards. We utilize high-quality materials and advanced printing techniques to ensure that your cards are not only eye-catching and professional-looking but they are also durable. 
You Deserve a High-Quality Business Card 
You deserve to receive a high-quality business card that you are not embarrassed to distribute to your potential audience. How can you maximize its benefits? 
Networking. They are a

valuable tool for networking

. Are you attending a conference or a trade show? If you are then, these business cards can help establish a connection and keep in touch after the event. 

Introduce Yourself. A well-designed business card can be a great way to introduce yourself and make a positive first impression. When you meet someone new in a coffee shop, you can hand him/her your business card. From there, you have already communicated your brand message effectively. 

Branding. These cards can build your brand and communicate your message. A custom design reflects your brand's personality and values, you can create a memorable and consistent image that sticks in people's minds. 

Professionalism. As long as the cards are printed by a reliable print shop, you can be sure that you are getting a set of high-quality business cards that demonstrate professionalism and attention to detail. 
Affordable Pricing 
How much are business cards? Our print shop in Burbank offers affordable pricing and fast turnaround times. You can get the cards you need when you need them. Do not be afraid to show off your business cards to your potential clients, partners, and colleagues. But make sure they are printed by My Printing Matters. Contact us to know more about our printing services.