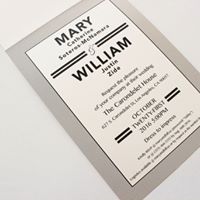 Planning a wedding can be stressful. It's also expensive. You may have a budget but it can be difficult to stick to it. If you wish to save money, though, you can create a beautiful wedding by asking for the help of a print shop in Burbank. 
How Local
Print Shop in Burbank
Can Help? 
There are many things that you need to print. The printed materials are distributed before, during, and after. Choosing the following items through a local print shop, like My Printing Matters, will help you save money. 
Invitations
Printing invitations can cost a fortune. Other couples would have to spend thousands of dollars just to print their wedding invitations. But it doesn't have to be. 
It's easy to create a unique wedding invitation that fits your theme. Fill out the necessary information and send the design to your local print shop. 
You may also opt to work with a professional graphic designer to create your invitation. In that way, the templates are not boring and they're specific to your wedding. After sending you the design, you can send it to My Printing Matters so we can print it out. 
Place Cards 
Regardless of where you hold the wedding reception, you need to place cards on every table. These are creative place cards to guide your guests on where they can sit down. 
You can find designs online and customize them. After that, you can send your place card design to your local print shop to have it printed. 
When you design the place card, consider something that is more offbeat. No matter what design you choose, printing it becomes cheaper if you have it printed by a local print shop. 
Favors 
Your attendees traveled for miles just to attend your wedding. To thank them for their effort, you should give them some wedding favors. But sure the favors are unforgettable. 
Regardless of the favors you choose, make sure that you brand them with your name, the date of the wedding, and include a special message to them. 
There are various wedding favors to choose from. The simplest is to distribute mugs. But when choosing a wedding flavor, make sure that it reflects who you are. You should choose a favor that your guests will enjoy. 
However, you should only choose wedding favors that are within your budget. Novelties can be fun and unusual. They're also cheap. Hand fans are also ideal and they're useful during a summer wedding. 
A fridge magnet is also another idea. Each time your guests open their fridge, they will be reminded of your wedding day. Opt for full color magnets with UV coating. They don't easily get thrown. 
Need More Print Jobs for Your Wedding? 
My Printing Matters is here to manage all the prints you need for your wedding. You may call us today to inquire about the print services that you can avail for this purpose. Contact our print shop in Burbank at (818) 260-9512.