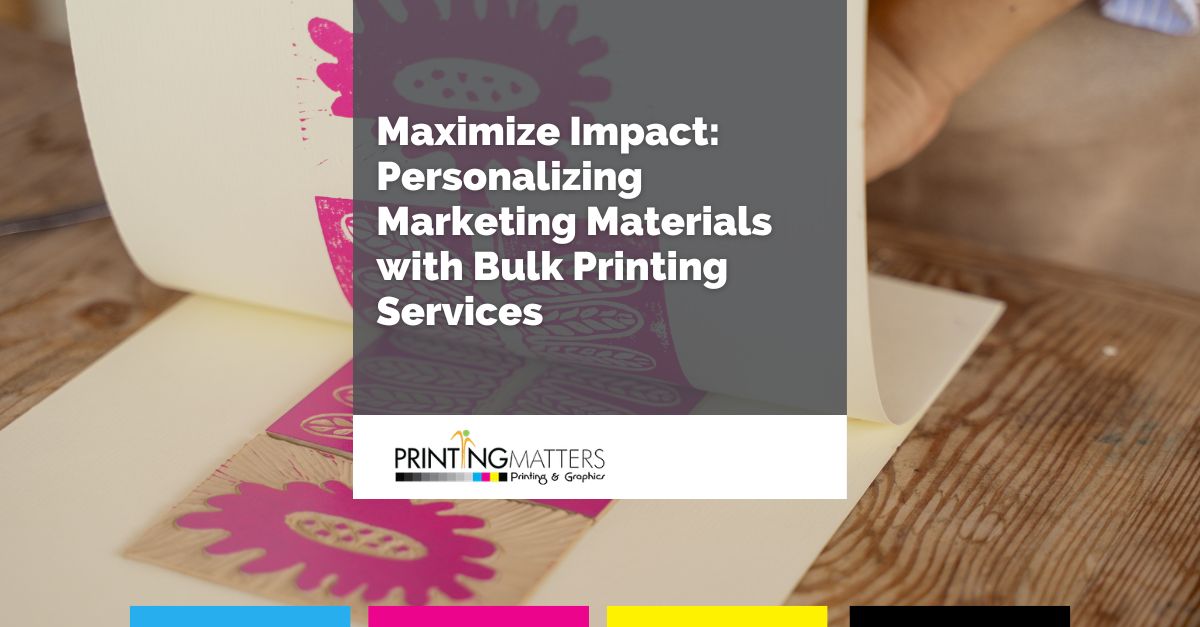 In the world of marketing, personalization is the key to creating a lasting impact. Customers want to feel seen and valued, and one effective way to achieve this is through personalizing marketing materials. Bulk printing services have evolved to offer customizable solutions that help businesses connect with their audience on a deeper level. In this article, we'll explore how My Printing Matters, your one-stop printing shop, empowers businesses to personalize their marketing materials, maximizing their impact and engagement.
The Power of Personalization
Personalization is more than just adding a name to an email or mailer; it's about tailoring your marketing message to speak directly to your audience's needs, preferences, and pain points. It's about making each recipient feel like your product or service was designed just for them. Bulk printing services can be a game-changer in achieving this level of personalization.
Beyond the Cookie-Cutter Approach
Traditional print marketing often followed a one-size-fits-all approach, but the landscape has shifted. With bulk printing services, businesses can create personalized marketing materials at scale. Each piece can be unique, catering to the specific interests and demographics of your target audience.
Customization a la Carte
Bulk printing services enable customization on a massive scale. Whether it's variable data printing (VDP) for individualized content or unique QR codes for tracking responses, your marketing materials can be tailored for each recipient. At My Printing Matters, we make sure that your message reaches the right person in the right way.
Direct Mail That Speaks to You
Direct mail is making a comeback, but not in the form of generic, unopened envelopes. Personalized direct mail, powered by bulk printing services, stands out. When your audience receives a mailer that speaks directly to their interests or needs, they're more likely to engage with your brand.
Personalized Promotional Products
Promotional products have long been a staple of marketing, but they're even more effective when they're personalized. From branded mugs with your customer's name to custom-printed t-shirts, bulk printing services can transform ordinary merchandise into cherished keepsakes.
Tailored Brochures and Flyers
Brochures and flyers are powerful marketing tools, but a generic design might not resonate with every prospect. Bulk printing services allow you to create brochures with content and visuals tailored to different segments of your audience, ensuring each recipient gets a message that speaks directly to their needs.
Incorporating Customer Data
One of the keys to effective personalization is leveraging customer data. With bulk printing services, you can incorporate data points such as purchase history, location, and demographic information to create marketing materials that are not only personalized but highly relevant.
Boosting Response Rates
Personalization isn't just about making customers feel special; it's about boosting response rates. When a message resonates, the likelihood of your audience taking action increases. Whether it's making a purchase, signing up for a newsletter, or attending an event, personalized marketing materials drive results.
Personalization in a Digital World
While personalization is often associated with digital marketing, bulk printing services bridge the gap between the physical and digital realms. Personalized URLs (PURLs) and QR codes can lead recipients to customized landing pages, creating a seamless transition from print to online engagement.
The Green Advantage
Personalization can also be eco-friendly. With bulk printing services, you can print only what you need, reducing waste. My Printing Matters offers a range of eco-conscious paper options and sustainable inks, ensuring your personalized marketing materials are kind to the environment.

The Personalization Advantage
In the age of information overload, personalization is a powerful tool. It's a way to cut through the noise and engage your audience in a meaningful way. My Printing Matters' bulk printing services open up a world of possibilities for personalizing your marketing materials, ensuring that each piece speaks directly to your customers. With personalization, your marketing doesn't just inform; it resonates, connects, and drives action, making it a key to your business's success.