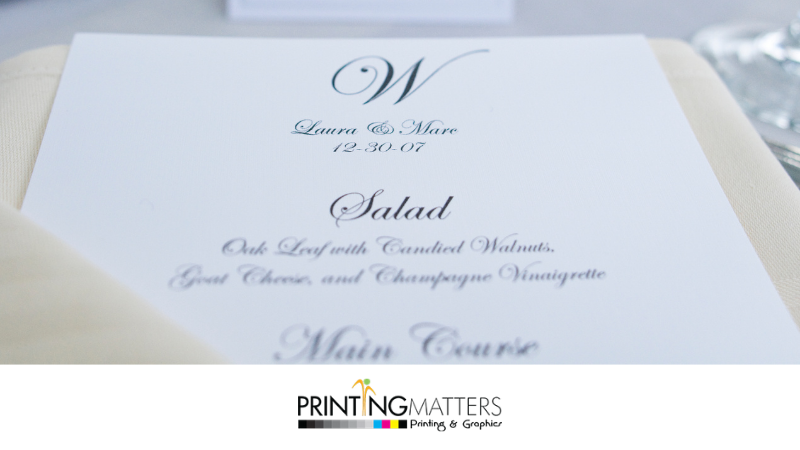 The main goal of menu printing in Burbank is to inform customers what dishes are offered. Printing the menu is the final step. That's why it should not be an afterthought. 
In that case, it's necessary to invest in a branded design to guarantee success. The quality of the menu must be highly considered. 
Since the menu can make or break your restaurant, you need to produce visually appealing menus that can increase more sales. 
Choose Separate Sheets for Upsell Items 
You can boost your sales when you sell drinks, desserts, and daily specials. However, these items will sell better when you present them on another sheet. 
But it's not just an ordinary sheet. Rather, it's an attention-grabbing sheet that aims to prevent overwhelming your customers. 
When you have the upsell items sheet, choose to add up to 7 items. 
Add Special Sheet 
In this sheet, you can add fresh items or unique options that can boost sales. Their main goal is to entice your customers to come back for more. 
You can't list them on the main menu because these items are seasonal or weekly items. If you choose to include them on the main menu, you will have to reprint them every month, which can be costly. 
Hence, choose to display your special items on an insert sheet to minimize cost while maximizing flexibility. 
Use Photos
There's no need to add a photo for every dish you deserve. Instead, focus on adding images that tell customers the story of your brand. 
You may add photos of the early founders of your restaurant or images that showcase your company's history. 
Then, add pictures of entrees and limit them to 2 photos per page. They are sufficient to arouse interest without having to clutter the entire menu. 
What Paper to Use? 
There are many paper options to choose from. When you order menu printing from My Printing Matters, you have a variety of choices, from glossy paper to white card stock type. 
Restaurant owners would typically choose glossy paper to make the prints, fonts, colors, and images look cleaner. They also look crisp and sharp. 
Test the Menu 
You may order a few prints first. Use these to see how the finished menu will look like. Double-check the copy and its font size. Make sure that it's legible for your restaurant lighting. 
Distribute the sample prints to your staff and customers. Let them voice out their opinion on the printed menu. 
Consider their suggestions and change the design if necessary. 
After testing the samples, you can order them in full quantity at My Printing Matters. 
Should You Laminate the Menu? 
It will make the menu more durable. It will also be easier to carry around. Plus, it stays cleaner. And if something spills something on it, it can be gently wiped off. 
Where to Order Printed Menus? 
My Printing Matters offers various options for menu printing in Burbank. Give us a call today to start your custom printing. (818) 260-9512.