My Printing Matters offers menu printing in Burbank to help business owners create an attractive menu that highlights their specials. Menu specials are a great way to launch new menu items.
To introduce these specials, you are building interest in your everyday menu. They can also reach new customers.
You may already have printed your menus. However, you must have a separate menu to highlight your special products. Having a separate menu allows you to increase your sales.
But it is not just about increasing sales. Menu specials can help your customers in making a decision.
When your customers come in, you can present them your specials while they are waiting. They can review those specials and evaluate them before making a final decision.
Having printed menu specials allows you to sell more and educate your customers about your items. If you are not sure how to design your special menus, you may call our customer support so we can show you the right template you can use.
Apart from our menu printing Burbank service, My Printing Matters also offers special flyers. It is another effective method of increasing sales on a certain day. For example, you can create a flyer for Tuesday specials or Family Brunch.
A flyer can help you feature your special menu offers. This method is also useful in reaching a new audience or group of customers. It is also beneficial in filling in a void in your sales.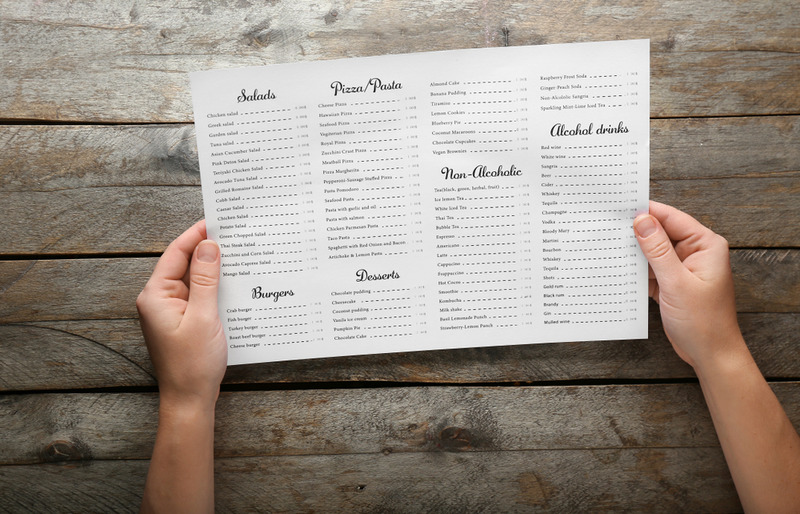 Keep It Simple
There is no need to complicate your flyers. Just keep them simple and make sure to highlight your products, pricing, and specials. Then, do not forget to include your contact information.
On your flyer, feature up to five menu items. Keep it under 50 words. It assists in communicating your customers but not overwhelming them with information.
Then, add calls to action. For example, you may include your website or social media site where they can find more information about your specials.
When creating flyers or menus, you should keep the information simple. That is, you just add brief description and pricing, as well as the dates or times when the specials are available.
Can You Add Images to Your Menus or Flyers?
You may include images of your products to your menus and flyers. At My Printing Matters, our templates include areas where you can add photos of your products. But you can also upload your own design and we will print the menus and flyers for you.
To make your customers crave for your products, consider the use of adjectives that will surely make your customers hungry. Your call to action must be powerful enough to compel them to visit your physical location.
If you have social media websites, you can take photos of your printed menus and flyers. Then, add the photos to your profiles and talk about them.
At My Printing Matters, we offer different types of printing services. Menu printing Burbank area is just one of them. Talk to us to know more about how you can avail such service to boost your sales. Contact us at: (818) 260-9512.