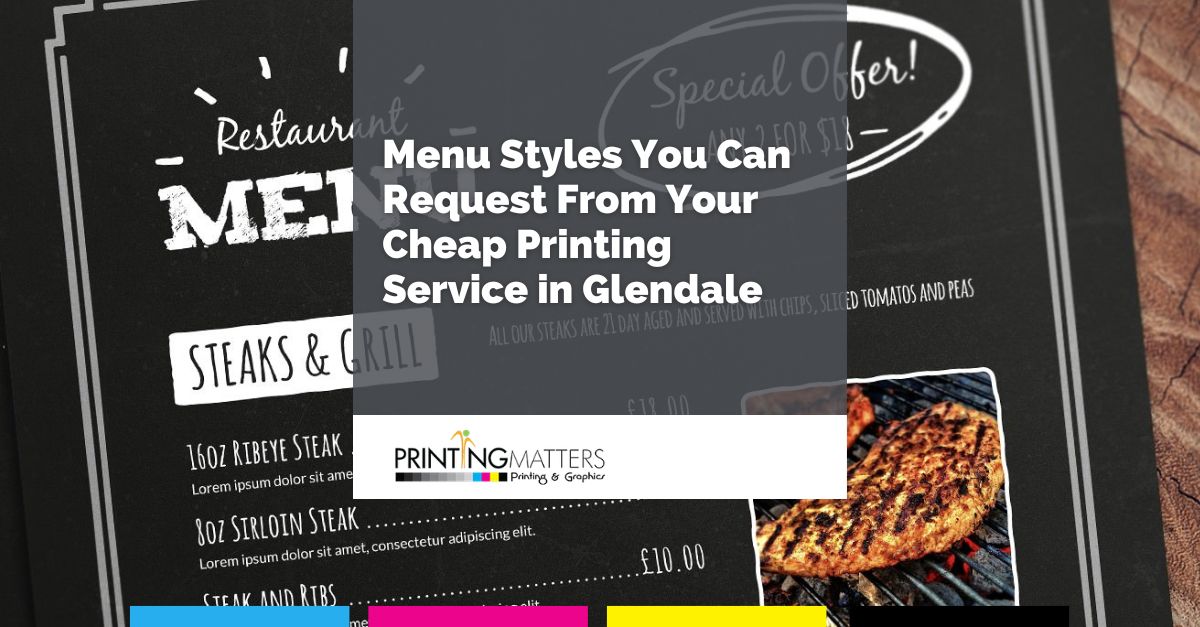 Finding a quality and reputable cheap printing service in Glendale comes in handy when you need to print menus, and we are here to help. Naturally, if you own a restaurant or bar, you will need a menu for your guests. However, we can also help you print menus for beauty salons, food trucks, and much more. The style of menu you choose should go with your brand and the items you sell. Here are some options to choose from. 
Flat Menus
This is a simple menu design that works well in a variety of establishments, including bars and restaurants. This style is a simple flat sheet of cardstock or laminated paper that can be printed on both sides. It's a great choice for small menus as it allows you to list what's available without an overwhelmingly large menu. This choice is also ideal for a cocktail list and works well in places that are modern and minimalist. 
Placemats
A placemat menu is ideal for smaller locations that don't have a lot of room to store menus. It works as a double-duty item by offering guests your menu and providing a place to set down their plates once the food is ready. This style of menu should be laminated or placed into a plastic sleeve so they can easily be wiped off. Or, you could use cheap paper and make the placemats a single-use item that you throw away after each guest.
Table Talkers
These are triple-sided, standing menus that can be placed upright on the table at your restaurant or bar. They are often used for promotional menus, seasonal menus or to display your drinks list. Because they are often used for a short amount of time, consider printing on cardstock to save money, but still end up with a durable menu. 
Folded Menus
A traditional folded menu is great for places that serve a wide variety of items and need more room to print. They are also a fantastic choice for a traditional style of restaurant and give you more space for images or icons to go with the menu offerings. Usually, these are made from heavy-duty cardstock so they last for a while. 
Booklet Menus
This bound style of the menu gives you more room for pictures that go with the food and drinks you serve. They are also an old-school type of menu that evokes a certain feel when you dine out. At the same time, a bound booklet menu is great for beauty salons, massage parlors, and wellness spas because you'll have room to list your services, with plenty of space to describe them to your clients. 

Wall and Window Menus
Placing one large menu for guests on the wall or window is a good way to save money on table menus, but is also ideal for placing them outside your front door so guests can see what you have to offer before coming in. These are great for order at the counter style restaurants, as well as for food trucks or pop up cafes or pubs. 
No matter what style of menu you choose, Printing Matters is your cheap printing service in Glendale for getting the job done. Contact us today to get started.