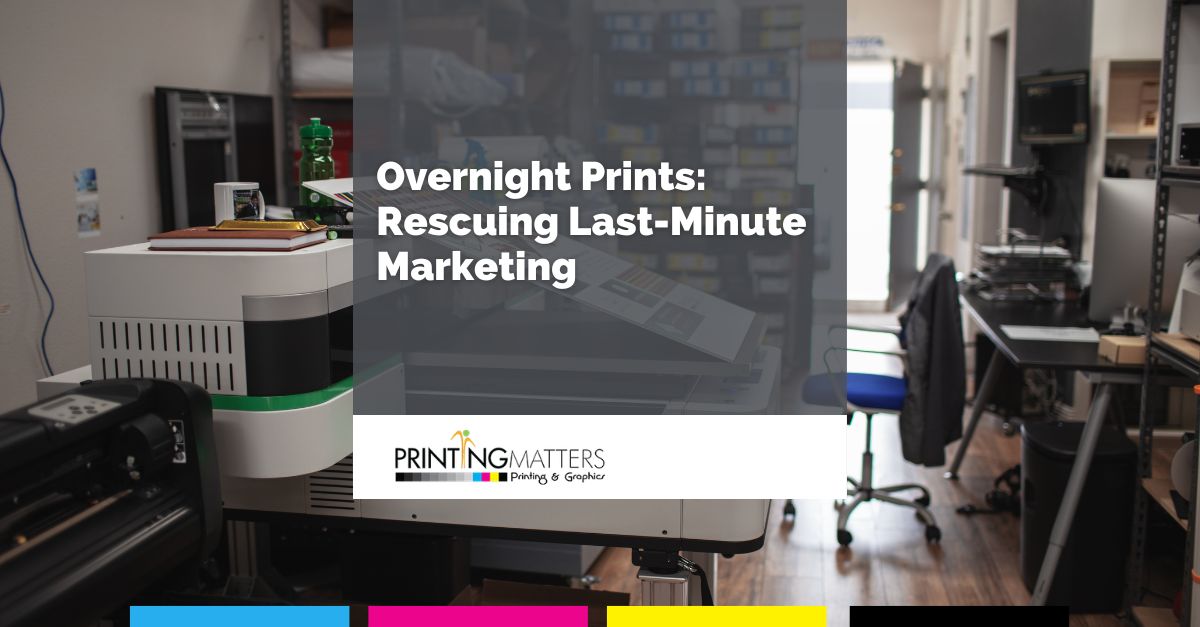 In the fast-paced world of marketing and promotions, opportunities can arise at a moment's notice. When an unexpected chance to promote your business, event, or special offer presents itself, you need materials at the ready. That's where overnight prints come to the rescue. In this article, we'll explore how My Printing Matters, your one-stop printing shop, plays a pivotal role in saving last-minute marketing campaigns and helping businesses seize opportunities with lightning-fast materials.
The Need for Speed in Marketing
The world of marketing is highly dynamic, and it's all about timing. Being able to react swiftly to changing circumstances can make the difference between success and missed opportunities. Overnight prints have become a crucial tool for businesses looking to capitalize on these moments, and My Printing Matters is here to ensure you're always ready.
Urgency Meets Versatility
Overnight prints are not limited to any specific marketing material or industry. Whether it's flyers, brochures, posters, or business cards, we've got you covered. My Printing Matters offers the flexibility to print on various materials with a wide range of ink options. This versatility means you can adapt to any situation and create the right marketing collateral for the task at hand.
Seizing the Opportunity
Imagine a scenario where you hear about a sudden local event where your business could gain exposure. Will you have marketing materials ready to capitalize on this opportunity? With our overnight printing service, you can have eye-catching flyers or promotional materials in your hands in record time. Seizing opportunities has never been easier.
Last-Minute Sales and Promotions
Sometimes, a flash sale or limited-time promotion can greatly boost your sales. With overnight prints from My Printing Matters, you can quickly produce promotional materials and get the word out to your target audience. Whether it's a one-day offer or a weekend special, we've got the speed and quality you need.
Event Marketing at Its Best
From trade shows to local fairs and conventions, events are prime opportunities for businesses to connect with their audience. With overnight prints, you can ensure your booth or presentation stands out. Design and print banners, brochures, and materials that will leave a lasting impression.
Flexibility for Creative Campaigns
Creativity knows no bounds, and neither should your marketing materials. Whether you're running a guerrilla marketing campaign, creating unique promotional materials for an art exhibition, or launching a viral social media campaign, My Printing Matters' overnight prints can bring your vision to life in no time.

Lasting Impressions Made Fast
In marketing, the first impression is often the only impression you get. With our overnight prints, you can be sure that your marketing materials are of the highest quality, leaving a lasting and positive impression on your audience, even when you're. racing against the clock.
Last-minute marketing opportunities are a fact of life in the business world. The ability to act swiftly and effectively can be a game-changer. My Printing Matters is your partner in turning these last-minute opportunities into successful marketing campaigns. With our overnight prints, you'll always be prepared to seize the moment, create a buzz, and boost your business. Don't let time constraints hold you back – make last-minute marketing work for you with My Printing Matters.