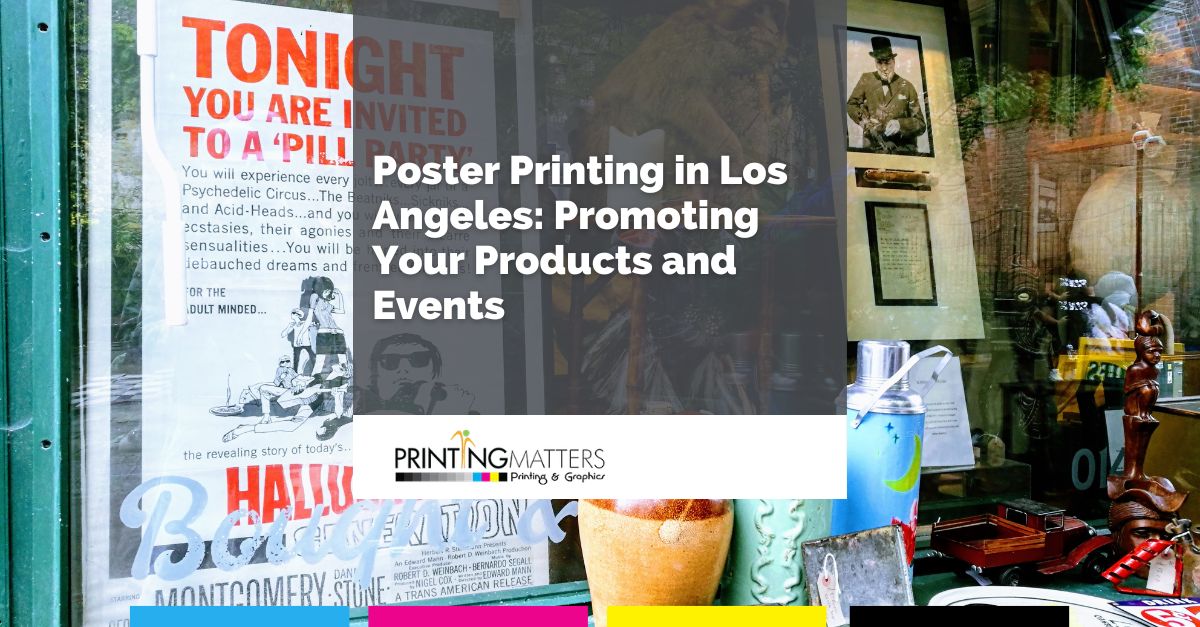 Are you ready to catch the attention of event guests? Poster printing in Los Angeles is a time-tested solution to create a style poster that gets your campaign noticed. It is a popular medium for businesses to promote products and ideas in a visually compelling way.
Poster Printing in Los Angeles
for Large-Format Prints 
One of the key benefits of this service is that you can create large-format prints that can be seen from a distance. It makes posters ideal for advertising events such as concerts, art exhibits, and festivals. Printing Matters is capable of printing high-quality posters in a range of sizes and materials, including vinyl, fabric, and paper. Thanks to its large-scale commercial printers. 
Personalized Touch 
If you are looking for a more personalized touch, My Printing Matters offer custom poster printing services. Customization allows you to have control over the design and content of the poster. It means that it can be tailored to the specific needs and goals of the individual or business. It ensures that it effectively conveys the desired message. 
Creation of Unique Designs
This is one of the best things about customized poster printing. You can ensure that your designs stand out from mass-produced posters. It can be important for your business if you are looking to differentiate yourselves in a crowded marketplace or attract attention to a specific event or promotion.
Is Custom Poster Printing Cost-Effective? 
It is a cost-effective solution if you are looking for a way to promote products, events, or services. This is especially beneficial for your small business with a limited budget. The cost can vary depending on several factors, including the material used, the size of the poster, and the complexity of the design. The quantity ordered also matters. Compared to other forms of advertising, this form of advert is less expensive. 
Order The Quantity You need
One of the advantages of this service is that it lets you order the quantity that you need, instead of having to order in bulk. It means that you can save money by avoiding the costs associated with printing and storing large quantities of posters that may not be used or may become outdated. 
What is the ROI of this Service? 
It offers a high return on investment by providing a targeted way to reach potential customers. As long as you place your posters in strategic locations, like high-traffic areas or near relevant businesses or events, you can effectively reach your desired audience and generate leads and sales. 
How to Create an Effective Poster Print? 
To create high-quality poster prints, you need to define your objective. In this message, you can be sure that your message will be conveyed to your target market effectively. You should also keep it simple. The poster design follows a "less is more" rule. Thus, avoid cluttering your poster with too much text or graphics. 

Order Your Poster Prints 
When you know what message you want to convey to your audience, you can upload your design file. Or go to our service page to order poster printing in Los Angeles.