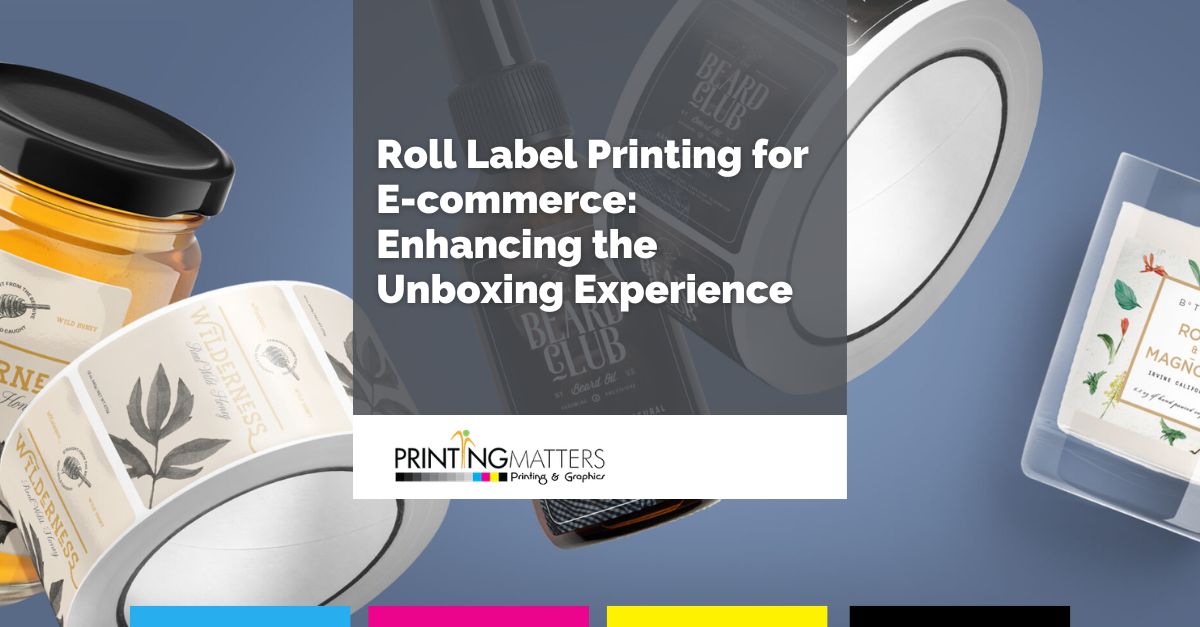 In the world of e-commerce, the unboxing experience is a crucial moment. It's a time when the customer gets to touch, see, and interact with the product they've been eagerly waiting for. This moment can be magical, and it's an opportunity for online retailers to create a lasting impression. Roll label printing is a powerful tool that enhances this experience, turning ordinary packages into memorable moments. In this article, we'll explore how My Printing Matters, your one-stop printing shop, plays a pivotal role in transforming the e-commerce unboxing journey.
The Unboxing Experience: A Make-or-Break Moment
In the virtual realm of e-commerce, creating a memorable and tangible connection with your customers is vital. The unboxing experience bridges the gap between the digital shopping cart and the physical product, making it a pivotal moment in the customer journey. A well-designed roll label can transform an unremarkable package into a moment of delight.
Customization: The Heart of Roll Label Printing
One of the key strengths of roll label printing is the ability to customize labels to the ninth degree. Whether it's adding the customer's name, a personalized thank-you message, or a unique design that aligns with your brand, customization is at the heart of enhancing the unboxing experience. My Printing Matters empowers e-commerce businesses to create labels that are as unique as their products and customers.
The WOW Factor: Creating Anticipation
Before your customer even opens the package, a beautifully designed roll label can create a sense of anticipation and excitement. When they see an eye-catching label, they'll be curious about what's inside. This WOW factor is a subtle but powerful part of the unboxing experience.
Telling Your Brand's Story
A roll label is not just a sticker; it's a storyteller. It can convey your brand's values, mission, and personality. Through carefully crafted text and imagery, it can establish an emotional connection with the customer. My Printing Matters understands the importance of telling your brand's story through labels.
Functional and Informative Labels
Roll label printing isn't just about aesthetics; it's also about functionality. Labels can provide vital information such as usage instructions, care details, or even QR codes for additional resources. A label can be an informative guide that ensures the customer gets the most out of your product.
Quality Matters
The unboxing experience is all about quality. A low-quality label can diminish the overall perception of your product. My Printing Matters prides itself on delivering high-quality roll labels that are not only visually appealing but also durable and long-lasting.
Branding Beyond the Box
Roll label printing isn't just limited to the outside of the box. Labels can be placed inside as well, creating a hidden surprise for the customer. This unexpected touch can make the unboxing experience even more special.
A Lasting Impression
The goal of the e-commerce unboxing experience is to create a lasting impression. It's about turning first-time customers into loyal, repeat buyers. A well-designed roll label can be the start of a long and fruitful relationship with your customers.

Unboxing Magic with Roll Label Printing
The unboxing experience is more than just opening a package; it's about creating moments of magic and excitement. Roll label printing from My Printing Matters transforms plain boxes into branded, personalized, and unforgettable parcels. With customization, quality, and the ability to tell your brand's story, roll labels can make your customer's day and keep them coming back for more. Elevate your e-commerce unboxing experience with My Printing Matters, and let every delivery become a memorable event in your customers' lives.