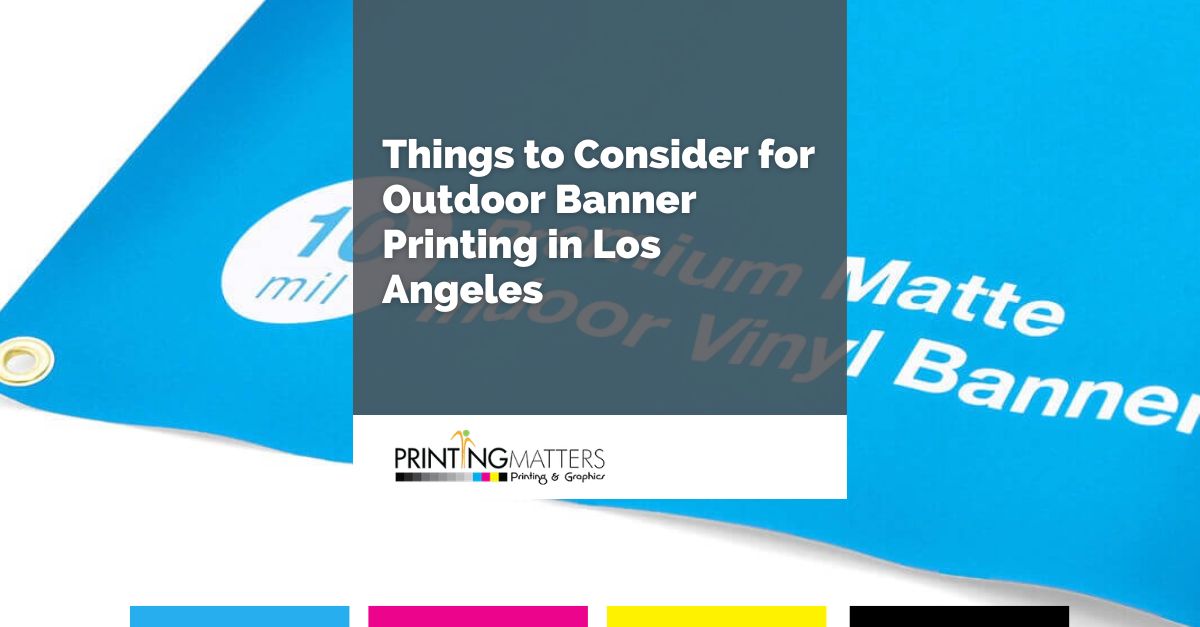 Banners are a fantastic way to communicate with your community and target audience. After all, they're large and hard to miss so they are super effective advertising tools for your brand. Banner printing in Los Angeles is a great choice for showcasing special events, a store opening, or a sale. Here are some considerations to keep in mind.
Location
Not only is location important for being seen, but the weather can damage your outdoor banner so make sure you choose the right place for it. Choose a highly visible location, but make sure the banner is protected from the sun, wind, rain, or snow. 
Display Time
How long will your banner be on display? Heavy-duty materials are the best option if you plan to leave it up for several months. Something more lightweight should suffice for a short term display. 
How it Will Be Displayed
You have several options here. Perhaps you secure your banner at the top two corners, or maybe you do so at all four corners. Does it stand in a doorway or make its presence known on a tabletop or other display? This influences the type of banner you buy, so keep it in mind. 
Weather Conditions
As mentioned above, weather can damage your banner so choose appropriate materials for the expected conditions. That includes sun exposure, wind, and moisture, as well as extreme temperatures. 
Single or Repeated Use?
Will you only use the banner for one event or promotion? Or will you pull it out for repeated use? Again, this influences the quality of the material you choose and how easy it is to store when not in use.
Information Displayed
Your banner's purpose is to advertise so make sure it contains all the relevant information. That includes sale dates, event dates, location and time. Be sure you also include your company name and logo, as well as any necessary contact information. Choose text that is easy to read. 
Target Audience
When you're spreading your message, you want a large outdoor banner so that it's visible and easy to see and read. Smaller outdoor banners can be used to direct people to the right place or to give instructions on the day of the sale or event. 
Finish of the Banner
An example of a finish might be coating your banner in gloss. You might also want to black out the backside of the banner. These are important things to keep in mind when you choose the material for your banner. 

Expected Size of the Event
You can coordinate the size of the event with the size of the banner. For example, a church concert probably won't draw the same crowd as the latest rock band so you might not need as large of a banner. 
My Printing Matters is here to help you with all of your outdoor banner printing in Los Angeles. Contact us today and we can assist you in choosing and designing the perfect banner for your brand and the event or sale you want to advertise.