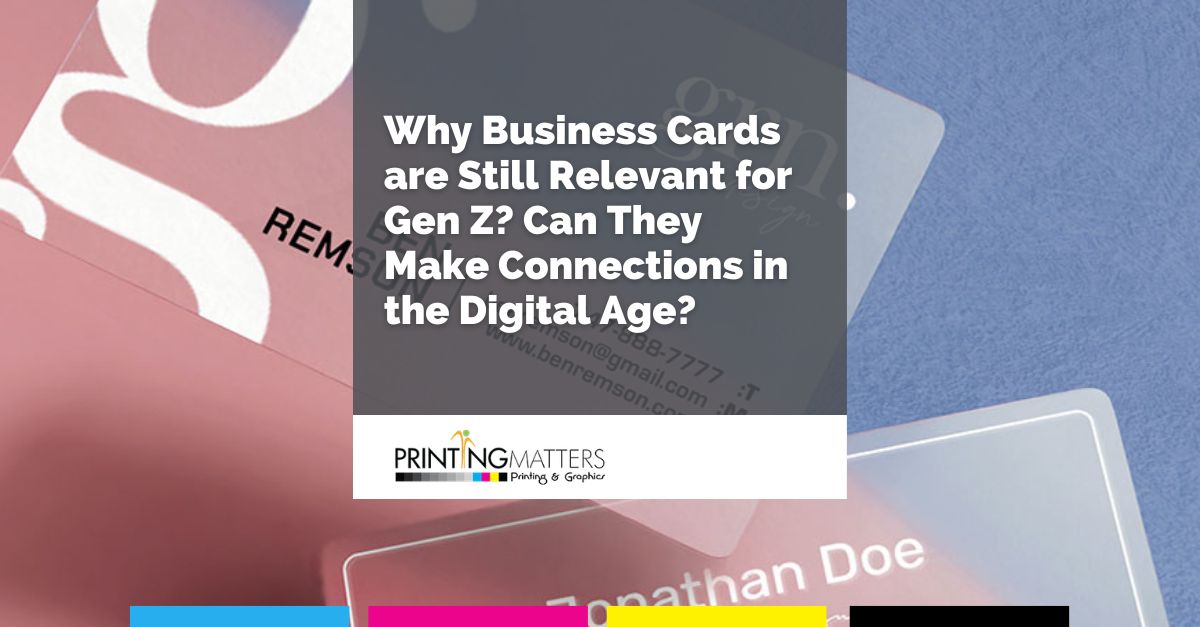 Gen Z may be difficult to advertise to. They are picky and they utilize smartphones and laptops often. Thus, if you use business card printing in Los Angeles, you might wonder if you can give your card to a member of this generation. Are business cards still relevant to Gen Z? 
Making a Lasting Impression with
Business Card Printing in Los Angeles
It is true that most people are online now. They use Google to search for a certain product or a company. Hence, it is easy to assume that business cards are no longer relevant, especially for Gen Z. But the truth is that these cards can make a lasting impression on potential clients. Digital network tools are still important. But if you want to make a lasting impression, make sure you have business cards to give. Besides, the actual effect of a product they are not used to -retro but yet a novelty for them- can be beneficial for your product or business. 
Creating the Perfect Business Cards for Your Professional Needs
Business cards are a physical representation of you and your brand. They allow you to showcase your unique style and creativity. They also leave a memorable impression on the recipient. This is vital for Gen Z who are often just starting out in their careers and looking to make a name for themselves. A well-designed business card can set you apart from your competition. It can also demonstrate your professionalism and attention to detail. 
More Personal 
Business cards are more personal than digital network tools. Although it is easy to send a quick email or LinkedIn message, it is more difficult to make a real connection with someone through a screen. Meeting someone in person and exchanging business cards allows for a more genuine interaction, and can help to establish a rapport that can be difficult to achieve through digital communication alone. 
Showcase Your Social Media Presence 
Business cards can also be a great way to showcase your social media presence. In today's digital age, social media is a powerful tool for networking and building your personal brand. Including your social media handles on your business card can help potential clients or employers to find you online and get a better sense of your personality and interests. 
Creating the Perfect Business Card for Gen Z
To create a business card that Gen Z will appreciate, you need to focus on design. Make sure that the card is visually appealing, and reflects your personal brand and style. Consider incorporating unique features, such as a QR code or an eye-catching color scheme, to make your business card stand out. 
Make sure that your business card includes all relevant information, like your name, job title, email address, and phone number. Do not forget to include your social media handles and consider adding a personal tagline or mission statement that reflects your professional goals. 
Get Creative 
You should not be afraid to get creative. Consider using alternative materials like metal or wood. You can also experiment with different shapes and sizes. Remember that the card is a representation of you and your brand, so make sure it stands out in a positive way. 

Are You Ready to Order? 
You may use our business card printing in Los Angeles by visiting our Services page. Or you may call us.