Color printing service in Glendale includes the printing of flyers. But you may ask how flyers are still relevant today when business owners can just use social media or email marketing? 
If you're hesitant to try flyer distribution as your marketing platform, then you're missing out on a lot of things. Flyers have been tried and tested to increase sales. Many successful businesses are still using them because they are effective. Moreover, they are fast and cheap. 
Print Flyers Using
Color Printing Service in Glendale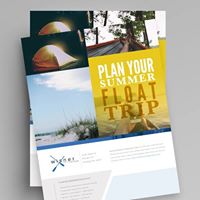 For affordable flyer marketing, make sure to use our color printing service here at My Printing Matters. You can't go wrong with it. However, the design of your flyer can easily make or break your marketing. 
If you wish your flyer marketing to help increase your sales, the design must be memorable with a shorter copy. Keep in mind that the people who received flyers didn't pick them up. Rather, they were shoved into their letterbox. 
Thus, to grab your viewer's attention, your design must be outstanding and bold. 
Make Your Message Strong 
This type of print marketing requires having a strong message. And your message must be conveyed clearly and quickly. Otherwise, your viewers will just ignore your flyer. 
Every time you design your flyers, make sure that the message is captivating with strong headlines and subheadings. It has to be memorable with a sharp copy. 
Your goal here is to stir reaction, even if it's a controversial message. 
When distributing your flyers, make sure that your message and design must remain neat and presentable. Always remember that your flyers represent your company. In that case, you must present your message neatly. 
Flyers are extra thick allowing them to be neatly placed in the letterboxes. Even if they fall to the floor, they remain solid. That's why you need to invest in the design and print of your flyers so your message is properly disseminated. 
Shaped Flyers
If you want to further catch the attention of your viewers, you need to be unique for extra impact. And one way to do that is to opt for shaped flyers. 
Adding a simple shape can help in grabbing the eye of your viewers. If your flyers are designed to be distributed, they should carry your message faster and provide more punch. 
With shaped flyers, your viewers are tempted to open and read your message. If you shape it like a ball, for instance, your potential customer will read it and follow your call. 
And when designing your flyers, make sure that the message doesn't focus on your company. Rather, it should focus on your customer. 
Your message must answer the burning question of your viewer, "What's in it for me?" Most small businesses fall short in it. Many of them will just show to their viewers how good their company is. But your customers simply don't care about it. What they truly care about is what they can get from it. 
If you are ready to print your flyers today, make sure to use our color printing service in Glendale. Call us today at (818) 260-9512.