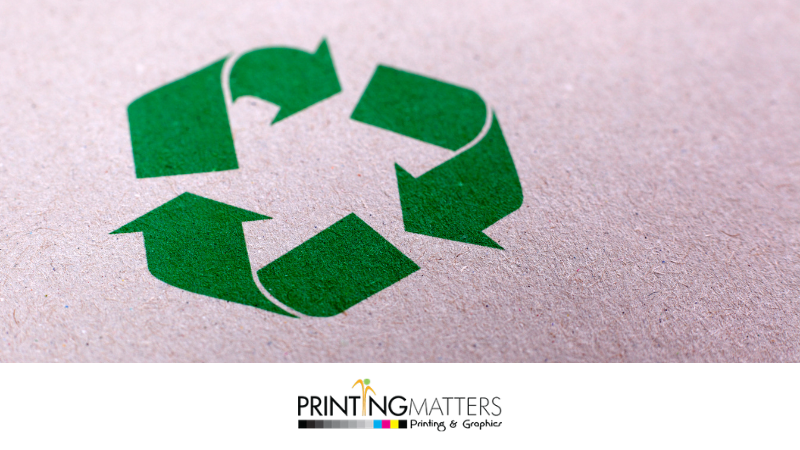 My Printing Matters is committed to providing our clients with sustainable bulk printing services. Our company is dedicated to doing our best to help our planet by providing eco-friendly products to our customers. 
Here at My Printing Matters, we use recyclable papers. It means that the paper can go into the bin, rather than the landfill. 
They can be reprocessed into a new paper or collected at a material recycling facility. 
We also use recycled paper. They are papers made from previously used materials. It means that the paper is partly or fully made from old paper products. 
Our team does its best to recycle most of the paper that we use. By choosing our recyclable and recycled paper choices, you are helping our planet while supporting our sustainable printing practices. 
What Paper Products Can Be Recycled? 
Some of the printed papers that we use are recyclable. When they undergo recycling, the ink is removed from the pump after the bleaching process. In that case, the paper becomes white again. 
To be more green, you should not only use recycled paper. 
Keep in mind that virgin fibers are required to maintain the cycle. With the lack of new fibers from new trees, the cycle can't continue. The reason for this is that recycled fibers can degrade after various uses.  
In that case, the industry needs to produce fresh fiber to keep the cycle going. 
That's why it's vital to opt for both recycled and recyclable paper to ensure that the renewable cycle continues. 
But when it comes to sustainable printing, it doesn't just focus on the paper used. It also tackles the printing methods being used. 
LED UV printing is a sustainable printing method commonly used in making brochures, leaflets, and other promotional materials. 
The use of UV light will instantly dry the ink leaving the colors more vivid. The overall design appears to be sharper, thereby, creating a lasting impact. 
This type of printing is exceptionally a sustainable printing method because it uses less power compared to the traditional print dying technology. 
The instant drying process doesn't require a sealing coat. 
Digital printing is another sustainable printing method that doesn't necessitate a printing plate to complete the job. The ink just sits on the top layer of the substrate. 
In that case, it consumes less waste compared to the conventional method that requires a plate. 
However, digital printing is ideal for smaller print runs. It can be completed quicker than other printing methods. 
This type of printing can finish up to 4,000 sheets per hour. That's why it's a cost-effective way to print your promotional materials. 
My Printing Matters Offers Eco-Friendly Solution 
We continue to improve our printing services to ensure that we don't hurt our planet while we print your promotional materials. 
Our company believes that small changes can be made to reduce carbon footprint. If you wish to know more about our sustainable bulk printing services, please call us at (818) 260-9512.